WALT: Make connections to a text by using research skills.
TIB: Using research skills we can begin to understand part of our Australian history and this will help us understand the text more deeply.
AS WE READ THINK:
What are some connections you are finding while we are reading this story? Remember ask yourselves:
Text-to-self – What does this text remind me of from my own life?
Text-to-text – What other text does this story remind me of?
Text-to-world – What events in the world does this text remind me of?
TASK 1:
In pairs research Slouch hats and the Australian Army on the
Australian War Memorial Website.
What is it made from?
Why was this style selected?
Describe the crown and the brim. Which side is or was it turned up and why?
What else was attached to it? Describe the embellishments.
Complete a timeline of five significate moments in the slouch hat's history based on the information you find.
We will share your findings with the class at the end of the lesson.
Research task is to be handed up at the end of the lesson.
WILF:
Working together in pairs

Completed research task

A prediction about the text

At least one connection about the text
TASK 2:
Record at least 3 facts about WWI Uniforms from this website: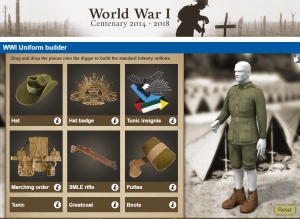 TASK 3:
Create an artwork using crayons/pastels that reflects your understanding of this book.