Inappropriate or appropriate (Click!)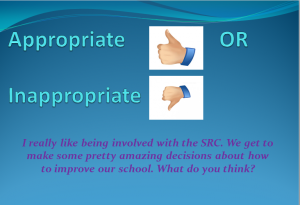 WALT: identify appropriate and inappropriate comments
TIB: To be global citizens we need to be able to write appropriate comments to others using online forums e.g. blogs. We need to identify when a comment may be inappropriate and follow internet safety rules to report anything we are unsure of.
WILF: 
Open the powerpoint and enable editing
Read the blurb and decide if it is inappropriate or appropriate (thumbs up or down)
Record your answers on a sticky note on the desktop
Read the blogging guidelines
Write an appropriate comment to at least one blog post.