Can you use your safe internet skills to complete today's challenge?
Miss Ali Khan tells me that you are learning about the difference between narrative writing and persuasive writing.
These are 2 reasons people write. We call them text purposes.
All good writers organise their ideas before writing them down. These days we can use webtools to help us do this. Check out my popplet about text purposes.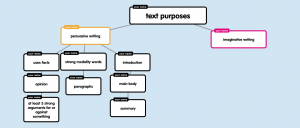 Popplet is another webtool like bubblus – http://popplet.com/ Find the link on the blog sidebar.
Look at how I have organised my ideas……however, it is not finished. This is where you come in.
WALT – effectively use webtools to organise ideas
WILF:
• access blog
• access webtool
• subject bubble
• 2 purpose bubbles
• include at least 3 vocabulary or grammatical features
• include at least 1 point about the structure of the text
• include at least 2 points that support the purpose
• save ideas
TIB: Good Writers organise their thoughts effectively using technology to support them.
I look forward to seeing your ideas organised!
Good Luck!